On S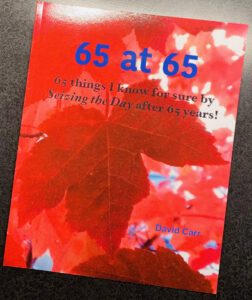 eptember 11, 2015, my mother, Joyce Carr, passed away at 88. (My father had passed 27 years prior.) I was just shy of my 62nd birthday. Out of all my thoughts and emotions was the realization that I was now on my own. A huge connection was lost!. My figurative umbilical cord was cut!
I began to take note of where I'd been, who I had become, and perhaps how I'd prefer to "play out" the final quarter of my life. I began writing down what I was grateful for. I noted who had been instrumental in helping me arrive at this point. I thought of significant events in my life, including successes and failures and the lessons I learned.
I've approached these lessons by naming sixty-five important words that capture and call out what I know for sure at the age of sixty-five.
In the Jewish faith, this writing might be considered a form of "ethical will" or legacy letter – a heartfelt expression of what truly matters most in life. I sum up each piece with, "Here is what I know for sure" and have included a few of my favorite photos and bumper stickers to add to my thoughts. If you've read my blogs, you may recognize some of these points of view.
This book is dedicated to my children, Erin and Brett. They are my legacy because of Joyce and John Carr, whose incredible love for one another touched my life and gave me the foundation for the person I have become. My sister and I were blessed to grow up in a warm and nurturing home.
These sixty-five writings are available in two forms. There are an 8 X 10 hardcover coffee table version and an 8 X 10 softcover version both with color photos. Both versions are available at this Blurb link.
Proceeds from these books will go to Haywood Street Congregation who serves the least of us.
Here is what I know for sure: "Getting older is just one body part after another saying, 'Ha Ha. You think that's bad? Watch this.'" – Anonymous
https://www.carrpediem.com/wp-content/uploads/2020/12/cXFhB9kKTraUuaowq7vvRA_thumb_2485.jpg
633
1242
Dave Carr
https://www.carrpediem.com/wp-content/uploads/2017/09/CarrpeDiem-4c-Logo.png
Dave Carr
2020-12-07 15:08:56
2022-05-20 08:23:41
65 at 65 : 65 things I know for sure by Seizing the Day after 65 years!